Alenkachoko
19 June 2021
Grand Canyon,down to the bottom
The Grand Canyon was the attraction of my dreams. I absolutely wanted to not only see it, but to spend the night in the canyon, and ideally to go down to the bottom.

Now the time had come.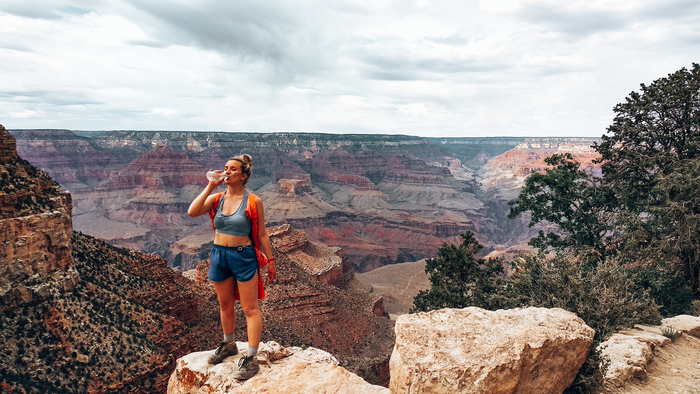 For "smart guys" like me to clarify. In blue dreams it's easy to pitch a tent, but in reality "welcome to the American bureaucratic net."
To spend the night in the Grand Canyon, you need a special permit for camping inside the canyon. To get it, you have to write six months in advance to the park management by fax or attention by mail! Well, I'm not that smart and didn't write to them six months in advance. I met a family they were going rafting for 10 days on the Colorado River. They had been waiting FOUR years for permission for this trip!
For those who like where they want to park, Americans love rules and always follow them. If you illegally stop in a canyon without a permit and you get found out, I'm not your advisor here.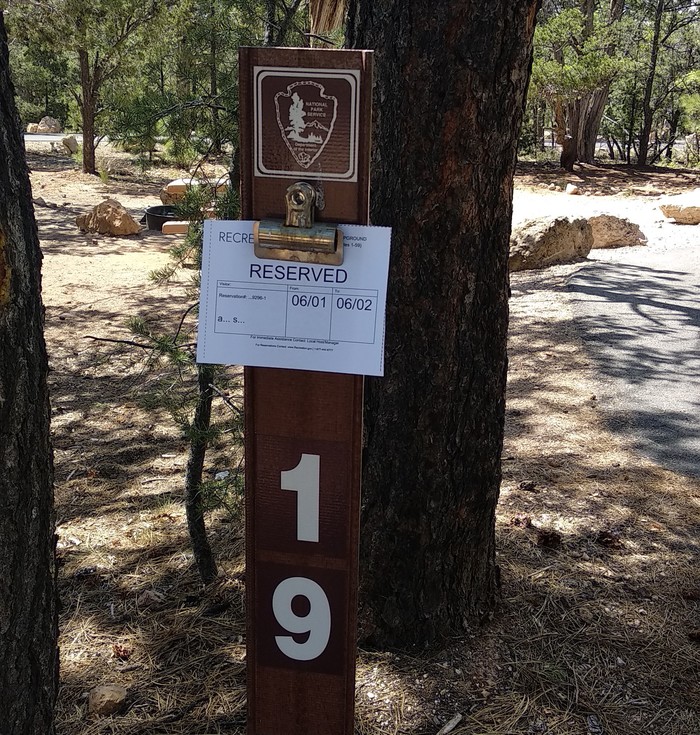 Two months in advance I made reservations at Mather Campground, tent space from $18. There are only a few days a month left in the two months before the trip. This campground doesn't need a permit in advance. It is within walking distance of the canyon.
Lifehack!
If you will be at this campground you can book 1 night and be there longer. How? Make arrangements with someone and stay on their property. Ranger said please stay there, no problem. It's very easy to make arrangements, the tent space is gigantic, it can fit 6 tents freely, so shouldn't be a problem.
I stocked up on food in Vegas, don't do that. Canyon has better infrastructure than some of the big cities: a great supermarket and even a mini sports store if you forgot something and craft beer at the coffee shop. Prices are no different than Vegas. There are washers on site, shower toilets, if you want to make a fire buy a bundle of firewood for $10 nothing else.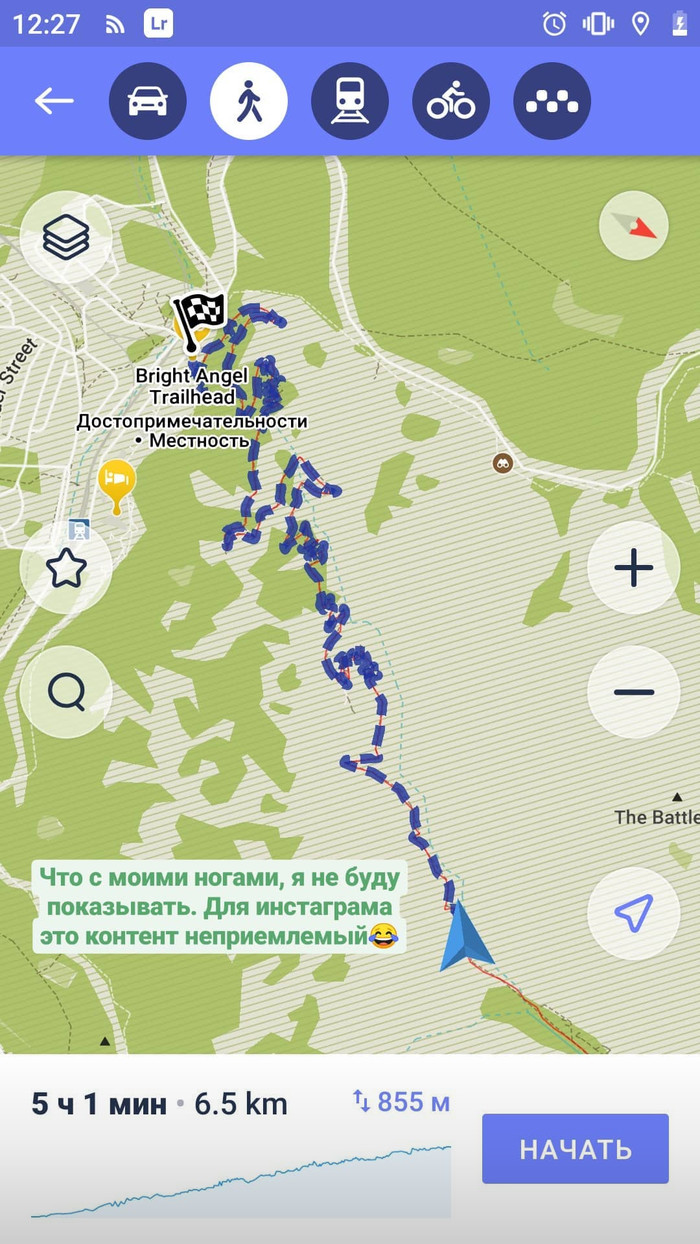 Choice of Trekking.
Cool site where you can pick up a trekking, for yourself in the Grand Canyon, and there are a hundred hundred thousand of them:
*deleted by moderator
I only had a day trip to the Canyon. Without a campsite inside the canyon, you can't do a long trek like from Rome to Rome (that's the name of the Grand Canyon side)
My choice was the Bright Angel trekking it leads to the bottom of the canyon to the Colorado River.
This trek is not recommended to do alone and in one day. The trekking is quite serious. The elevation gain is 1200 meters one way.
The descent takes 5 hours, the ascent 7 hours.
But I had no choice, so I hit the road at 5:00 in the morning.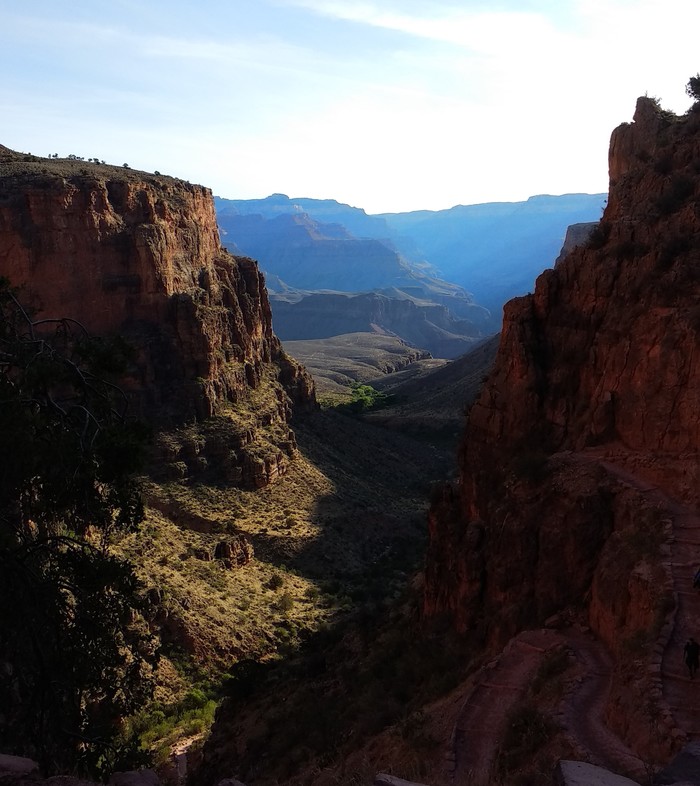 It should be noted that you do not write down your name anywhere and there is no ranger office where you notify that you are going. So be sure to communicate with the locals and notify as many people as possible of your plans. So that someone will catch wind of you and not go to feed the condors.
I didn't know what the water situation was on the way. Ranger said there was water, but not a sure thing. Everyone assured me you need at least a gallon per side. But in reality there were rest houses every 2 km along the way and you didn't have to worry about carrying 3 liters of water. It's hard to get lost, the Bright Angel road is one.
Don't forget you are starting an unusual trek, you are going down. That is, on the way back just begins the real track.
If you're not sure, walk to Indian Garden it's half way half way. If you don't feel nauseous and feel good go ahead. Map Mapps.mi did a great job.
I was walking alone, along the way I came across bands and asked which band I was from. I said Via Gra, but they didn't like my answer and urged me to join somebody else.
On the way back it was harder, but I was lucky in my day of travel there were clouds and the temperature was not higher than 30 degrees, while at a normal time it can go up to +40. The chance of nausea is high here, be prepared to have someone with you to hold your hair. It's not all partying to bail each other out.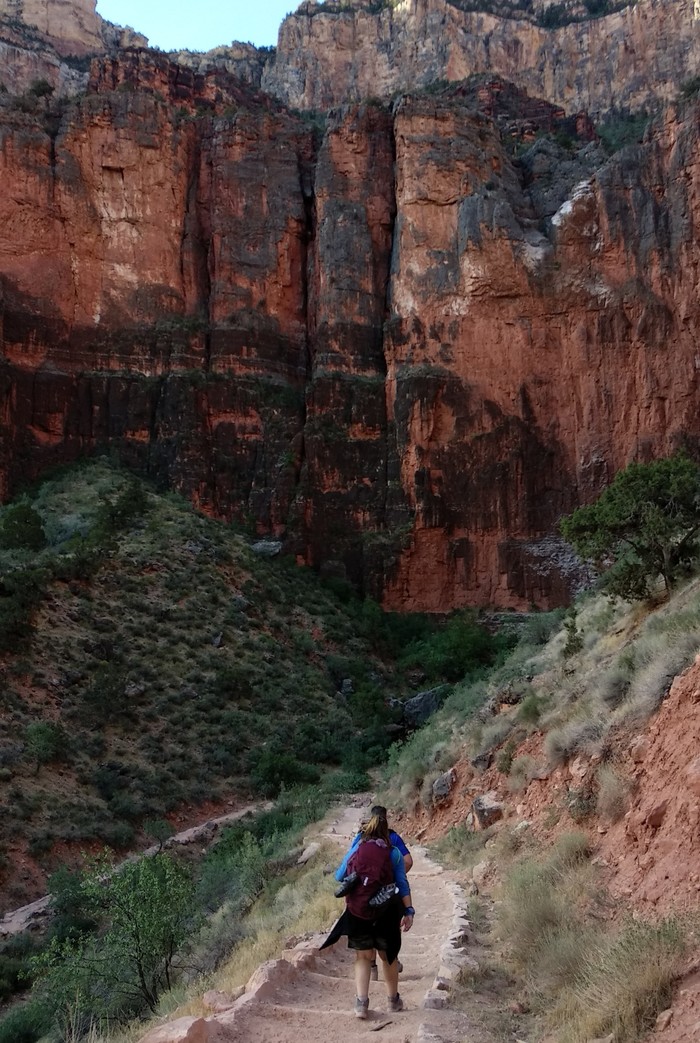 At the bottom of the canyon you can swim in the Colorado River! It's incredible to swim in the river that made such a mahogany as the Grand Canyon. I miscalculated on the amount of food and on the way back I had no more food left. I did the trek in 11 hours, it was hot, but I didn't find it very challenging. But it's worth noting that I was in very good physical shape, but when you go slow and die, you will be overtaken by a brisk, American pence.
Bring snacks, fruit, something salty to keep your calories up and your energy up. Be sure to take a roll of band-aids, I forgot and wiped the pads of my heels so bad I couldn't step on them for days.
I highly recommend buying a hydrator and drinking often. A lot of people recommend drinking 1 liter an hour. I don't know if my trek took 11 hours, can I drink 11 liters? You can tell me in the comments.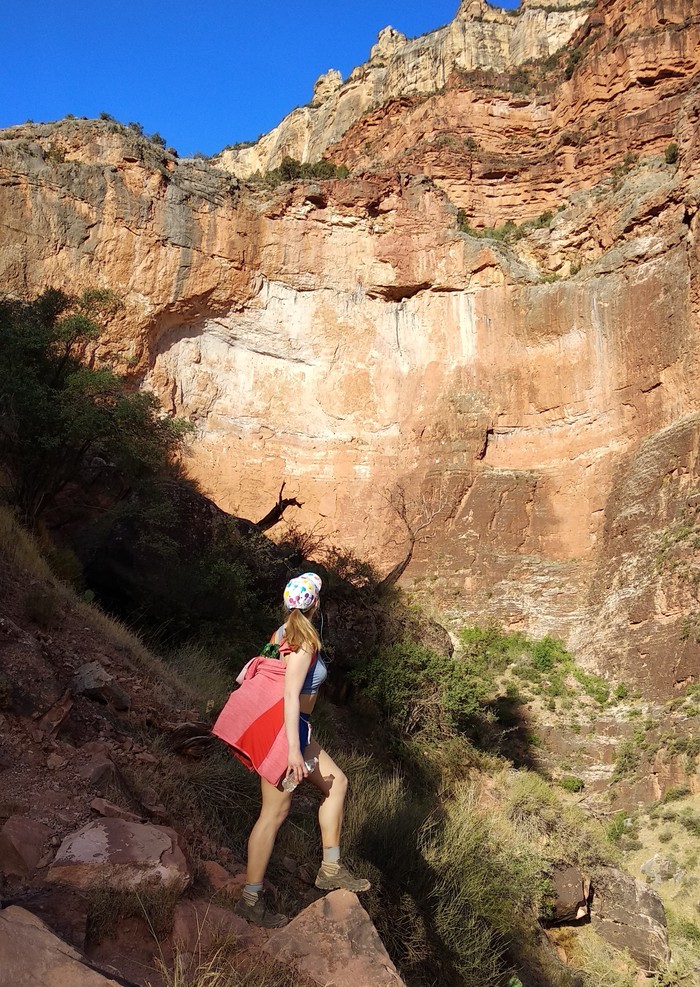 But this trip was definitely worth all the effort and long flights. The Grand Canyon was trekked up and down.
Travel to all. And remember, when you, travel alone, you are alone, but you are not alone (an African-American woman runs by and waves her finger)